日本 JaICA 老化Anti Acrolein (ACR) monoclonal antibody
上海金畔生物作为日本 JaICA 老化中国代理商,欢迎新老客户访问日本 JaICA 老化官网或者咨询我们获取更多日本 JaICA 老化产品线价格说明书等信息。
日本老化制御研究所 Jaica代理
抗丙烯醛单克隆抗体 Anti Acrolein(ACR) monoclonal antibody



Suitable for immunohistocheistry. For research use only.
Acrolein (ACR) is a representative carcinogenic aldehyde found ubiquitously in the environment and formed endogenously through oxidation reactions, such as lipid peroxidation and myeloperoxidasecatalyzed amino acid oxidation. ACR is highly reactive aldehyde and reacts with lysine residue in protein. The reaction with ACR and lysine residue leads to the formation of numerous numbers of adducts, such as formyl-dehydropiperidino-lysine (FDP-lysine) type derivative. This antibody is specific for the ACR-modified protein, especially FDP-lysine type derivative.



Specification
Clone #:
5F6
Antigen:
ACR-modified keyhole-lympet hemocyanine
Form:
Frozen (100 碌g/mL antibody in 10mM PBS containing 0.1% NaN3 and 0.5% BSA). Purified by Protein-A.
Application:
Immunohistochemistry.
Recommended antibody concentration is 0.5-1.0 碌g/mL on paraformaldehyde fixed tissue.
Specificity:
Specific for ACR-modified protein (especially FDP-lysine type derivative)
Subclass:
Mouse IgG1,kappa
Storage:
Less than-20°C
抗丙烯醛单克隆抗体适用于免疫组织化学。
丙烯醛(ACR)是在环境中普遍存在并且通过氧化反应(例如脂质过氧化和髓过氧化物酶催化的氨基酸氧化)内源性形成的代表性致癌醛。 ACR是高度反应性的醛,并与蛋白质中的赖氨酸残基反应。与ACR和赖氨酸残基的反应导致大量的加合物的形成,例如formyl-dehydropiperidino-lysine(FDP-赖氨酸)类型衍生物。
该抗体对ACR修饰的蛋白,特别是FDP-赖氨酸类型衍生物具有特异性。
技术参数
克隆#:5F6;
抗原:ACR修饰的钥孔血蓝蛋白;
形式:冻结(100μg/ mL抗体在含有0.1%NaN3和0.5%BSA的10mM PBS中)。通过蛋白A纯化;
应用:免疫组织化学;
推荐抗体浓度:0.5-1.0μg/ mL对于多聚甲醛固定的组织;
特异性:特定针对ACR修饰的蛋白(特别是FDP-赖氨酸类型衍生物);
亚型:小鼠IgG1,kappa;
储存:小于-20°C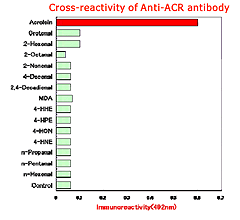 References
1)Protein-bound acrolein: Potential markers for oxidativestress. K.Uchida, M.Kanematsu, K.Sakai, T.Matsuda, N.Hattori,Y.Mizuno, D.Suzuki,T.Miyata, N.Noguchi, E.Niki,T.Osawa
Proc.Natl.Acad.Sci.USA,95,4882-4887(1998)
2)Protein-bound acrolein: A novel markers of oxidativestress in Alzheimer's Disease. Noel Y. Calingasan, Koji Uchida, and Gary E.Gibson
Journal of Neurochemistry.72(2),751-756(1999)
Product name
Code
Content
Anti Acrolein monoclonal antibody
MAR-020n
20 ug of IgG
MAR-100n
100 ug of IgG
日本 JaICA 老化Anti Acrolein monoclonal antibody
抗丙烯醛(ACR)单克隆抗体 使用使用说明书
技术资料